Book Walking Croatian National Parks Now !
Walking Croatian National Parks

Adventure Holidays - OPATIJA &&nbspZVECAJ &&nbspnone
This programme is a well balanced mixture of activity, nature and culture.
Walking Croatian National Parks Accommodation
Hotel Kolovare
Dalmatian Coast -
Zadar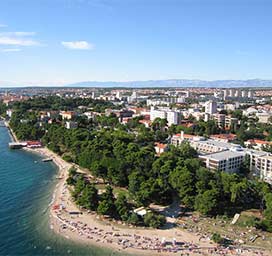 Spending First Section of Itinerary
4 Star Hotel
Hotel Kolovare is located near the historical sights of the ancient city of Zadar, in the peaceful and picturesque part, near the beach and along the promenade of the same name overlooking the harbor. ...more info
Where we visit
Opatija -
Istrian Peninsula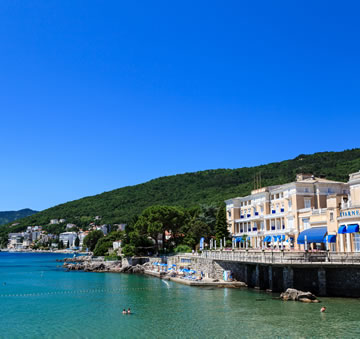 Spending Second Section of Itinerary
'The First Lady', 'Old dame', 'Queen of Tourism' - these are just some of the names given to Opatija. Guarded by a backdrop of densely-wooded hills, it sits where the ...more info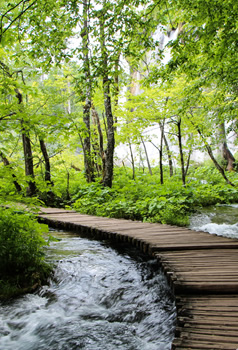 The highlights of this walking holiday include walking in the area of five national parks with breath taking views and stunning scenery of Croatia: Risnjak, North Velebit, Plitvice Lakes (a World Heritage Site that plays host to 16 lakes, numerous waterfalls fed by both the Black and White Rivers, as well as seemingly endless forests), Paklenica and Krka River.

Accommodation for the first two nights is in 4-star Hotel Camellia, followed by two nights in Zvecaj Village by the Mreznica River. Zeleni kut ("The Green Corner") is a well-known restaurant and a small family owned hotel overlooking the river. The hotel serves traditional Croatian specialties using fresh water fish from its own fishing ponds, home-made cheese, ham and sausages as well as fresh vegetables and fruit from local farms.
After that you will be transferred to a pleasant guest house in Korana Village, a small romantic place hidden away in a valley by the river in Plitvice Lakes National Park for three nights. The peaceful atmosphere makes for an ideal base from which to explore the surrounding area. Korana Village has no pubs, restaurants, shops, schools, not even a church - it's just a village as small and wonderful as it can be, an ideal setting for a fairy tale. Please note that each house in Korana Village has 2-4 bedrooms, and that sometimes two rooms share one bathroom.
Last two nights of the active part of your holidays will be spent in 3 Hotel Skradinski Buk in Skradin.

Daily walking routes during the active week are between two and five hours on easy to moderate terrain and leave enough time for relaxing in the evening.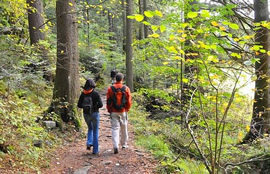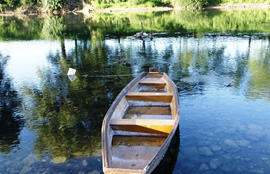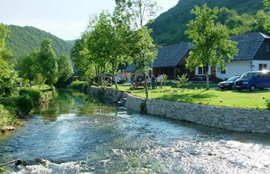 Day 1
Arrival in Pula Airport and transfer to 4 Hotel Camellia for 2 nights, BB.
Day3
Transfer from Opatija to
Zvecaj Village
by the
Mreznica River
. The guide will give you a brief introduction of the upcoming holiday.
Van ride of approximately 2:45 hr. Cold plate with salami and cheese served for dinner.
Day 4
Walking in
Risnjak National Park
, named after a lynx, a rare animal that inhabits its woods. The park is located in Gorski Kotar, the most mountainous and heavily forested region of the country and it includes both the Risnjak and Snjeznik ranges and the area of the Kupa River. The hike starts from Vilje and then leads towards the Big Risnjak, the highest point of this mountain range. Schlosser's mountain hut, situated 100m below the peak, is probably one of the most beautiful mountain huts in Croatia. After resting and enjoying the amazing view over the sea, other peaks of Gorski Kotar and even the Alps, the group will descend slowly back to Vilje and return back to hotel for dinner in the late afternoon.
Walking:3-4 hr; Terrain: easy/moderate, well-marked paths.
Day 5
The area of
North Velebit National Park
is rich in karst phenomena, outstanding biodiversity and exquisitely beautiful nature on a relatively small area. There are numerous mountaineering trails of which the most famous is the Premuzic trail, named after its constructor who built it in the late 1933.
Walking: 4-5 hr; Terrain: easy/moderate, well-marked path.
Day 6
Today we visit the most beautiful and stunning National Park of Croatia -
Plitvice Lakes
. We start our day walking along the wooden paths and bridges in and around Plitvice Lakes National Park. Its exquisite series of 16 emerald green and opal blue travertine lakes, more than 90 waterfalls and numerous caves make it a UNESCO World Heritage Site. Panoramic boat and train rides will take us back to the start.
Walking: easy, 4-5 h; Terrain: easy, well-marked paths.
Day 7
On the fifth day of your holiday you can be as active or as lazy as you want. You can relax by the river, swim or even take another optional cycling tour on your own in and around Plitvice Lakes National Park. Several river, walking, sightseeing or beach trips will be offered, in a case you are keen on discovering more beauties that Croatia has to offer.
Day 8
Paklenica National Park
is a part of a UNESCO World Biosphere Reserve and a favourite hiking and climbing destination. It covers the area of torrent flows of Velika Paklenica and Mala Paklenica, their distinctive canyons carved vertically into the south slopes of Mount Velebit and the broader surrounding area.
Walking: 4-5 h; Terrain: moderate, well-marked paths.
Day 9
The last day of the journey takes us to
Krka River National Park
with its fantastic karst formations and travertine waterfalls. We explore the park's extensive waterways and complex history dating back to late 10th century and first Croatian kings. One of the options is a visit to Skradinski Buk waterfall, the place where the second hydro plant in the world was built, just a few years after the one on Niagara Falls. A boat will take us to Visovac Island and and its Franciscan monastery.
Walking: easy, 3 h; Terrain: easy, well-marked paths.
Day 10
Transfer from Skradin to Split Airport for your flight back home.
Transfer time approximately 1 hour.
This itinerary and the duration of the activities are subject to change due to group abilities and preferences, weather conditions and forecasts, water levels, special events and interest. Our guides reserve the right to alter the itinerary without prior notice. .
Maximum number of participants: 16 guests per group (minimum age: 8 years if accompanied by parent(s)).
Return flights
All transfers
8 nights in double/twin rooms (single rooms on request and at a supplement)
8 breakfasts and 6 dinners
6 days organized activities
Use of walking poles (with advanced notice)
Local taxes and permits
National Parks entrance fees
Skilled English speaking guide and assistance.
Not Included
Items of a personal nature and optional gratuities to your guide(s)
Beverages
Optional visits
Travel insurance.