Book Flight Only - Dublin to Zadar Now !
Flight Only - Dublin to Zadar

Dalmatian Coast - zadar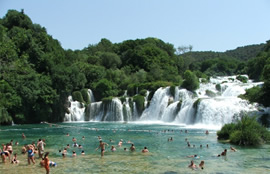 Here you will be able to choose a flight only, using our Direct flights from Dublin to Zadar. We have selected our flights from Dublin to Zadar with the best timings and airlines in mind. With direct flights from ublin to Zadar you can explore Mid Dalmatia. Including the towns of Split, Makarska, Zadar and Biograd, this region of Croatia is the most action-packed and sight-rich part of Croatia, with pretty islands, ancient towns, quiet ports, rugged mountains and beautiful national parks. The resort of Makarska is lively and attractive both to young travellers and families; Split is the second largest Croatian city and a major transport hub that attracts more tourists year after year; Zadar is a university town and Biograd offers you the superb Mediterranean atmosphere.

Makarska is serviced by Dubrovnik Airport - transfer time 2.45 hr. Transfer from Zadar Airport to Zadar and Biograd is approximately 30 min and to Split 1.30 hr. Make sure you check-in regularly to view flights from Dublin to Zadar for the best possible value for your flights.