Deluxe Escorted Tours
Splendours of Croatia and Bosnia-Herzegovina

Thinking of adding more diversity to your holiday portfolio? We are so proud of having direct flights to Mostar this year! It gives you an amazing opportunity to explore the outstanding examples of urban settlements of Mostar and Sarajevo where you will witness a story of reconciliation, international co-operation and the coexistence of diverse cultural, ethnic and religious communities.
On this 8-day escorted coach tour you will stay in hand-picked hotels and enjoy the carefully crafted itineraries planned by our team of holiday experts. With an array of UNESCO World Heritage Sites, picturesque scenery, and historical towns, this tour offers a great value for money and memories you'll treasure for a lifetime.
Where we visit
Mostar -
Bosnia-Herzegovina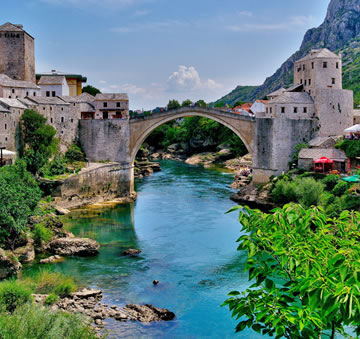 Spending First Section of Itinerary
The historic town of Mostar, spanning a deep valley of the Neretva River, developed in the 15th and 16th centuries as an Ottoman frontier town and during the Austro-Hungarian period in the 19th and 20th ...more info
Sarajevo -
Bosnia-Herzegovina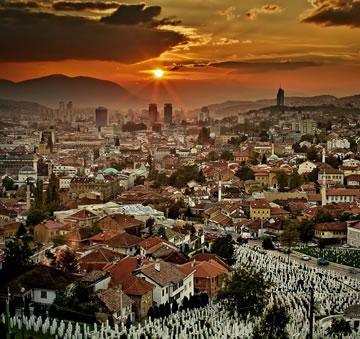 Spending Second Section of Itinerary
In the 1990s Sarajevo was on the edge of annihilation. Today it's a vibrant yet very human city, notable for its attractive contours and East-meets-West ambience.
Beyond the stone-flagged alleys ...more info
Dubrovnik -
Dubrovnik Riviera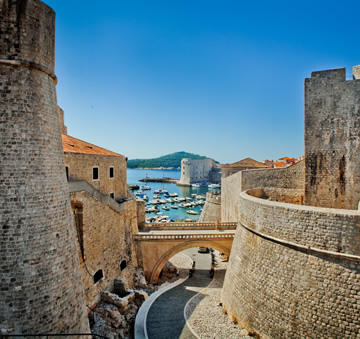 Spending Third Section of Itinerary
Dubrovnik is situated to the southernmost part of the Croatia, its flagship attraction Dubrovnik Old city itself is a priceless pearl, a UNESCO World Heritage site on ...more info
Split -
Dalmatian Coast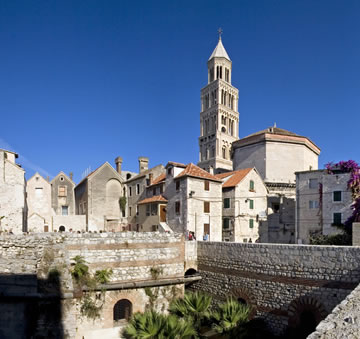 Spending Forth Section of Itinerary
Without hiding their pride, the people of Split will tell you that their city is 'the most beautiful one in the world and beyond' and they nicknamed it 'The Mediterranean ...more info
Trogir -
Dalmatian Coast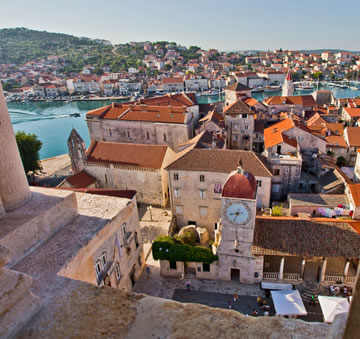 Spending Fifth Section of Itinerary
Gorgeous and tiny Trogir is beautifully set within medieval walls, its streets knotted and mazelike. It's fronted by a wide seaside promenade lined with bars and cafes, and yachts in the summer. Trogir ...more info
Daily Itinerary
Day 1 – Arrival
Direct flight to captivating Mostar and transfer to your hotel in Mostar for 3 nights. In the evening meet your tour leader and fellow travellers for a welcome dinner.
Day 2 – Mostar & Medjugorje
Today we visit the historic town of Mostar which is famous for its beautiful historic Ottoman-style bridge spanning a deep valley of the Neretva River. On a tour of Mostar old centre, experience sights such as the Old Bazaar, the Turkish House and the Old Mosques. In the afternoon we will visit Medjugorje, a little hillside village where Our Lady has been appearing since 1981 and by now some 40 million people have made their way there in hopes of bearing witness or being healed. After an orientation meeting, your guide will accompany you throughout the day as you follow the well-marked path up Apparition Hill where the young visionaries first encountered Our Lady.
Day 3 – Dubrovnik
Morning transfer to Dubrovnik Old Town, one of the world's finest and most preserved medieval cities with its Baroque churches and palaces, Renaissance fountains and facades, all intertwined with marble-paved squares, steep cobbled streets and houses. Walking tour of this lived-in and vibrant town.
Day 4 – Jablanica & Sarajevo
A coach transfer to Sarajevo, one of Europe's most intriguing cities with a short stop in Jablanica. After check-in at 4 Hotel Hollywood, we will hop on the cable car at the foothills of Trebevic Mountain for an amazing view of Sarajevo valley and its surrounding mountains.
Day 5 – Sarajevo
Visit to 'Tunnel of Hope' and walking tour of Sarajevo old centre. Admire Sarajevo's idyllic picture-postcard setting and the eclectic mix of architectural styles: Ottoman-era mosques and minarets, Austrian Habsburg-style neo-classical buildings, the Romanesque towers of Catholic churches and the onion-shaped domes of Orthodox ones. Don't miss a sip of a strong Bosnian coffee, or try baklava and pita (pastry with cheese) in Bascarsija, the city's cultural and historic heart.
Day 6 – Split
Morning departure to Split. On arrival we will check in for 2 nights in a hotel in Split Area and have some free town to explore or rest in the hotel before dinner.
Day 7 – Split & Trogir
After breakfast we will do some sightseeing trip to Split and Trogir. We shall take a walk through the 4th-century Diocletian's Palace to visit its ancient Cellars, Peristyle, Roman temples, Cathedral. After guided tour and free time, we will explore Trogir, another UNESCO listed town.
Day 8 – Departure
Transfer to the airport for your homebound flight.
This itinerary is a subject to change due to group abilities and preferences, weather conditions and forecasts, special events and interest. Our guides reserve the right to alter the itinerary without prior notice.
Minimum number of participants: 20 guests per group.
What is Included
Return flights
15kg check-in bag
All transfers with modern air-conditioned bus
7 nights in double/twin rooms (single rooms on request and at a supplement)
3*/4* Hotels on Half Board Basis (except in Split/Sibenik Area Bed & Breakfast
Local taxes
Sightseeing tours of Dubrovnik, Mostar, Medjugorje, Sarajevo, Split and Trogir
Skilled English speaking guide and assistance.
Not Included
Items of a personal nature and optional gratuities to your guide(s)
Beverages
Optional visits
Travel insurance.