Book Now !

Dubrovnik and Hvar Island second option
Experience the historical and buzzing ambience of Dubrovnik with amazing Hvar Town, relaxed by day and enchantingly chic by night.
This multi centre includes return flights, all transfers to and between resorts as well as 'on the ground' support and can be based on 7 nights , 10 nights or 14 nights
Accommodation
Grand Hotel Park & Villas
Dubrovnik Riviera - Dubrovnik
Spending First Section of Itinerary

4 Star Hotel
Grand Hotel Park is situated in the attractive bay of Lapad amidst lush sub-tropical gardens. This modern hotel is some 150m from a clean pebble beach where a good selection of water sports is available ...more info
Hotel Pharos
Dalmatian Islands - Island of Hvar
Spending Second Section of Itinerary

3 Star Hotel
Hotel Pharos is situated in a secluded pine grove and it has been completely renovated in 2016. Defined by attitude rather than affordability, Pharos bay hill hotel redesigns the traditional economy hotel ...more info
Where We Visit
Dubrovnik -
Dubrovnik Riviera

Dubrovnik is situated to the southernmost part of the Croatia, its flagship attraction Dubrovnik Old city itself is a priceless pearl, a UNESCO World Heritage site on ...more info
Island of Hvar -
Dalmatian Islands
Hvar is the longest and the sunniest Croatian island and is known far and wide for its green setting and omnipresent scent of lavender, extraordinary beauty and harmony ...more info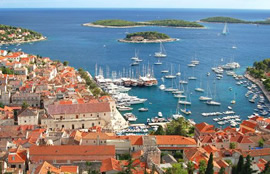 This is the great option to begin your own Croatian adventure and start exploring the mainland and islands.
After arriving at Dubrovnik Airport, you will be transferred to undoubtedly the most spectacular place on Dalmatian coast - the Old Town of Dubrovnik. Unique by its charm, it very much sums up all the wonders of Croatia that we are trying to impart; history, style, sophistication, character and beauty. Dubrovnik leaves thousands of visitors that walk along its marble streets every day speechless, gazing and gasping. You can choose a variety of different trips from sightseeing Dubrovnik to visiting the nearby countries of Montenegro or Bosnia & Herzegovina. Regardless of whether you are visiting this amazing place for the first time or the hundredth, the sense of admiration never fades.
After a few days of sightseeing and soaking up the atmosphere of Dubrovnik, you will find the nearby islands calling to you from across the clear waters of the Adriatic. The Island of Hvar is one of the most popular of the Dalmatian islands; Venetian in influence, it has developed a reputation as the most glitzy of the islands, and draws the stylish yachting crowd with its upmarket bars and mouth-watering restaurants.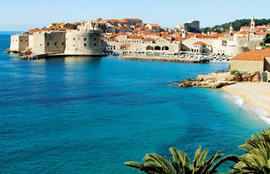 Day 1
Fly to Dubrovnik where you will be greeted by our representative and transferred by road to the 'Adriatic Jewell' -
Dubrovnik Town
.
Day 1 - 5
Four nights stay in a standard room on Bed & Breakfast basis in the 4 The Grand Hotel Park & Villas in a beautiful Lapad Bay. Revel in the most lovely and touristy of activities: seeing Dubrovnik from its city walls and taking a journey to the top of Mount Srd by the cable car.
Day 5
The driver will pick you up from your hotel and you will board the catamaran to
Hvar Town
, one of the most loved resorts on the Dalmatian Riviera.
Day 5 - 8
Stay in the 3 Hotel Pharos in a standard room on Bed & Breakfast basis for another 3 nights. Hire a bike or a motorbike to see the island's hidden quaint and unique little places, the lavender fields and secret coves. And... Don't be worried if you get lost.
Day 8
Sea and road transfer from Hvar to Split Airport for your flight back home
Return flights
10 kg check-in bag
All transfers
Accommodation for 7 nights on BB basis
Representative in resort(s)
Not Included